Finally! We finished removing all of the rotted/delaminated plywood.
Here is a picture showing the plywood removed and with the first sheets of new luan in place.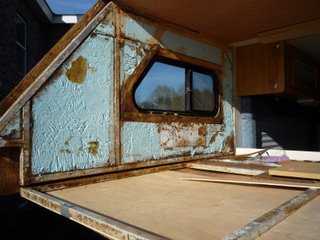 In the process of cutting and fitting new exterior grade luan sheets into place and replacing the damaged styrofoam insulation. The styrofoam we are using is the 1" blue board available from Lowe's. It is almost exactly the same density as the existing styrofoam. I have to make sure to remove the clear plastic vapor barrier tape that is on both sides of the blue board. After quite a bit of research, the best adhesive to attach the plywood and styrofoam to the aluminum frame and each other is Liquid Nails Heavy Duty Construction. It is the one in the blue and gold label. This adhesive will not attack the styrofoam and has a high resistance to heat failure.