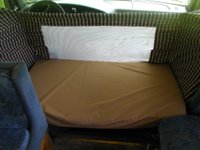 Several people have inquired about the "baby bed" that my wife made. With a large family (seven children), we we need all the available sleeping room we can find. Also we needed a crib for our one year old Jillian.
Our Class C RV has Flex Steel chairs up front which are able to rotate around and provide usable sitting space while in camp. I am really not sure but would imagine most Class C's are like this.
So we rotate the chairs facing each other. Then place the "bed" on the seats. The bed is constructed of four panels sewn together. The back panel uses a fine screen mesh fabric so that even if the baby rolls against it, she will still be able to breathe freely.
The bottom of the bed is designed like a pillow case in which we slid a piece of luan into. This bottom piece is left open. In the future if we ever need to replace or "double up" the luan for more support, it will be an easy process.
The sides are constructed similar to a pillow case as well, but with 1/2 of one side removed. This allows them to easily slide over the backs of the chairs.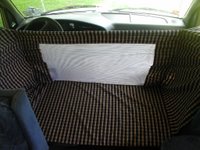 Once the sides are in place on the chairs, the chairs are then slid "back" and tilted back to adjust the tension of the bed. Have to give Kudos to the Mrs. she is a genius.
Next step:
Tackle the hot water heater to find out why it immediately shuts off when lit.custom built baby bed